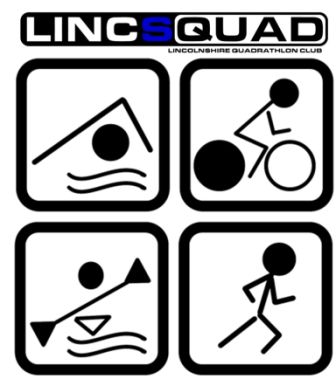 Keyo Brigg Bomber Sprint Distance Quadrathlon
25th September 2022
The Keyo Brigg Bomber Sprint distance Quadrathlon is organised by LincsQuad and consists of a 750m swim in the river Ancholme followed by a 4km Kayak, 19km road cycle and finishing with a 5km road run.
The course is flat, fast and ideal for both experienced quadrathletes and those wanting to race the shorter distance.
RACE INFORMATION
The event will run alongside the Keyo Brigg Sprint Triathlon and will start at 8:30am with competitors being set off in waves. Allocated starting times will be emailed to competitors the week of the race. All quadrathletes must read the information pack prior to race weekend. This quadrathlon is organised & raced under British Quadrathlon Association rules & regulations. This event is part of the overall BQA points series.
The race routes are well signed and marshalled, the race briefing will be focused on rules & safety reminders, it is therefore important that you have an understanding of the route as this will not be discussed in the race briefing. Click on the maps to see the routes in more detail.
As an entrant to this event your information may be shared on the event or club website, social media pages or in emails sent by or on behalf of the club. This data will only be shared in relation to your participation in the event, e.g. the list of entrants, results or event reports. This data will be limited to your name, town, nationality, gender, age, age category, the name of the affiliated club or team of which you are a member and your finishing time and/or position.
Event Cancellation due to Covid
Should we need to cancel the event as a result of covid restrictions, competitors will be given the opportunity to roll their entry over or have a refund of the entry fee (not including payment processing fees).
Competitor Withdrawal
If for any reason "applicants" who have already successfully entered an event find themselves unable to race and wish to withdraw, the applicant must inform the LincsQuad event team in writing.
This must be done initially via e-mail to Lincsquadevents@gmail.com . It is the responsibility of the applicant to ensure that their request has been received.
Applicants who withdraw from the event prior to start list publication (normally one week before the event) will receive a credit note for 50% of the original entry value. No refunds will be given after the start list is published.
Please note the swapping of entries between competitors is strictly forbidden as it invalidates insurances undertaken by the promoters to cover the event. Athletes found to have passed or taken up another competitors entry will not be allowed to take part in the event and no refund or credit note will be issued.
Applicants not notifying the LincsQuad events team of their wish to withdraw from the event after the closing date and applicants who do not attend the race will not receive any form of refund/credit.
All enquiries should be made via LincsquadEvents@gmail.com