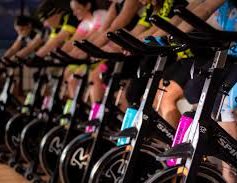 Where: The Pods Scunthorpe
When: Sundays 14:30 to 15:30hrs
Duration: 60 minutes
Cost

: £2.50 via RiderHQ
The club offers from November to March combined sessions of indoor cycling, strength & conditioning training at the Pods Leisure Centre Scunthorpe.
The session will be an intensive 60 minute session covering spin, with occasional sessions covering core stability and weight exercises. Led by our qualified coaches remember to bring a drink, towel and your membership card.
The sessions will be available to book on approximately 1 week before via RiderHQ (members £2.50, non-members £3) . Creating a RiderHQ account is free, to do this click here. Once you have an account, from the main Rider HQ page click on Events and search for LincsQuad or click on the blue Book Here button below.
The club operates a pre-booking system for its coached sessions. Please contact our membership secretary to seek advice about how to attend if you are looking to join LincsQuad by emailing to LincsquadMemberships@gmail.com
Click below to book onto a training session. Don't forget to a bring a drink and your membership card to the sessions.
To join our club please visit our Membership page