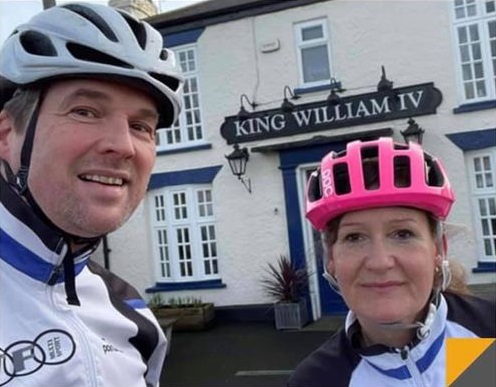 To keep the club camaraderie strong throughout the pandemic, LincsQuad have been running various challenges including one recently with a wintry theme.
"I created a bingo card of activities which were allocated different points," said club secretary Sallie Joseph.
"There were activities worth one to five points like a 90km bike ride which would get you five and others like walk or run 5km for one then, depending on how many points members gained across the course of the challenge, they were awarded a different title."
The different titles on offer through the challenge were Yeti for 30 points, Snowman for 20, Snowball for 12 and Snowflake for 7, with over 30 club members taking part and one even achieving the Double Yeti status for clocking up 60 points.
"We've just had such a great time, it's been such a massive hit," Sallie commented. "I included activities that people may normally shy away from like 10 hill reps on their bike of a Strava segment or 10x400m reps and people found themselves doing things they wouldn't normally do like a Zwift race for example.
"The best one was a transition challenge where people had to film themselves in their lounge of wherever, taking off their wetsuit and doing ten star jumps, put on their cycling kit and then do ten star jumps and then their running kit.
"We had one lady who took out her hair dryer and then got a glass of wine, and our mascot did it in a massive racoon suit."
With photos and videos being submitted to Joseph to prove that members had completed a task, she would then update their club Facebook group with daily scores.
"Every time someone achieved the Yeti status I'd post in the group with an IRONMAN-style 'You are a Yeti" shoutout and photo of them," Sallie added.
"People who hadn't run properly for six months were completing 5km non-stop and getting out. There was such camaraderie with people supporting each other and it's brought the Facebook page back to life and seen people training again with a target.
"People were going crazy for the points. It motivated people to train and get the miles in but the feeling of being part of a club and part of a bigger thing. People are part of a club because they enjoy training with other people and comparing and being inspired and this brought that back again.
"We've got such a range and the competitive ones were trying to beat their friends and get more points, doing the transition challenge as quickly as possible and others having a giggle with it, so everyone got something different out of the challenge."
This isn't the first challenge that LincsQuad have been up to, however. In December, they ran a Gingerbread Challenge in the run-up to Christmas that challenged members to compete either a sprint, standard, middle or long distance triathlon whilst the pools were open and a lockdown team duathlon challenge at the beginning of January where teams were picked evenly with one member doing a 10km run, one doing the bike leg and a third doing a 5km run for a total combined time.
"We've got members who've represented the GB Age-Group Team and others who haven't done a triathlon or swum open water yet," Sallie said. "People told us which leg they'd prefer to do and an estimated time so I could choose even teams and most were within about 20 or 30 seconds.
"Now I'm racking my brains to think of what to do next but there will be more, I just need to think about them."