The final TT was a return to the conditions that prevailed at the start of the series: coldish with a strong gusty North wind that made the return leg tough going. However, no roadworks (HURRAY), no mountains of muck off the tractors, no convoy of harvesting machinery, no speed detectors and the season was completed without a single train interrupting proceedings.
Mark Gollings got the event off to a flying start but Simon Abdy put down the first marker finishing on 22:10. Going at 15, Andy Thomas chalked up an amazing 20:39 moving Simon to 2nd and no-one else was able to catch them. The neck and neck tussle between Jon Challen and Ben Creasy played out to the last race with Ben finishing 1 second ahead of Jon on 23:08! A fantastic set of results from both riders. Chris Ware took 5th place to round off an excellent season.
Congratulations to Imogen Hall who was first lady home and who has done brilliantly on her debut season. Karen Braithwaite was 2nd but the course was obviously too short for her after her epic ride recently. Catherine Butterill was 3rd but gets the prize for the biggest smile while pedalling and the most laid back approach to the TTs.
The King William trophies for the fastest times by Lincsquad members over the course this season were awarded and presented by Peter, landlord of the King William. The female cup went to Jayne Baldwin (25:33) and the male award was successfully defended by Sheehan Quirke (20:36). We are hugely grateful to Peter and Vida for their hospitality again this year.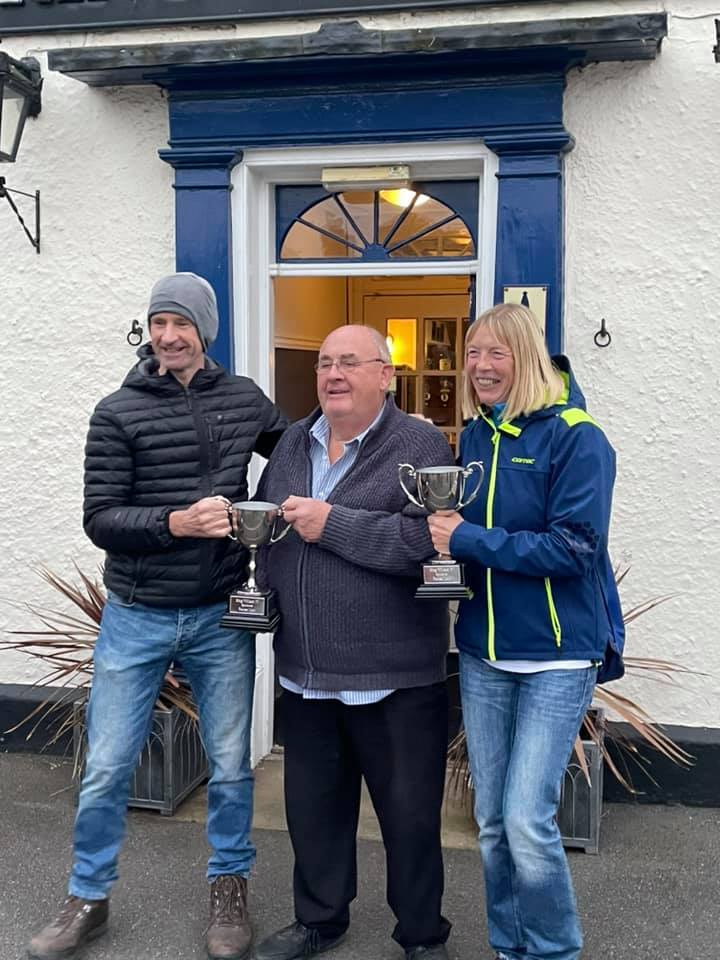 Thank you to all the riders who have taken part this year; for your patience with the ever increasing number of checks and requirements and for (mostly) applying common sense to your rides. It has been great to watch your efforts and enjoy the banter pre and post event. Well done to you all for some remarkable performances.
And an even bigger thank you to the Time Team Julie, Fiona, Janine, and Catherine and also to Donna and Jeff who took over in my absence and who also helped out when extra marshals were required.
Jane Taylor, TT Secretary
| | | | | | | | | |
| --- | --- | --- | --- | --- | --- | --- | --- | --- |
| Name | Club | Gender | 1 Sept Time | Overall | Overall Female | Overall Male | Lincsquad Female | Lincsquad Male |
| Andy Thomas | Lindsey Roads CC | Male | 20.39 | 1 | | 1 | | |
| Simon Abdy | Barton Wheelers CC | Male | 22.10 | 2 | | 2 | | |
| Ben Creasy | Lincsquad | Male | 23.08 | 3 | | 3 | | 1 |
| Jon Challen | Lincsquad | Male | 23.09 | 4 | | 4 | | 2 |
| Chris Ware | Lincsquad | Male | 23.22 | 5 | | 5 | | 3 |
| Mark Muxlow | Guest | Male | 23.22 | 6 | | 6 | | |
| Darren Busby | Barton Wheelers CC | Male | 23.25 | 7 | | 7 | | |
| Kev Lovett | Lincsquad | Male | 23.56 | 8 | | 8 | | 4 |
| Iain Taylor | Danum Harriers | Male | 24.20 | 9 | | 9 | | |
| Mark Gollings | Lincsquad | Male | 24.21 | 10 | | 10 | | 5 |
| Adam Holt | Lincsquad | Male | 24.34 | 11 | | 11 | | 6 |
| Dan Ellis | 53eleven | Male | 24.47 | 12 | | 12 | | |
| Andrew Hobley | Lincsquad | Male | 25.10 | 13 | | 13 | | 7 |
| Roo Butterill | Lincsquad | Male | 26.47 | 14 | | 14 | | 8 |
| Pete Wilson | Barton Wheelers CC | Male | 26.48 | 15 | | 15 | | |
| Mark Turner | Lincsquad | Male | 27.09 | 16 | | 16 | | 9 |
| Imogen Hall | Lincsquad | Female | 27.25 | 17 | 1 | | 1 | |
| Malcolm Dent | Lincsquad | Male | 27.52 | 18 | | 17 | | 10 |
| Steve Cannings | Lincsquad | Male | 28.07 | 19 | | 18 | | 11 |
| Darren Binns | Barton Wheelers CC | Male | 28.09 | 20 | | 19 | | |
| Malcolm Marshall | Lincsquad | Male | 28.28 | 21 | | 20 | | 12 |
| Karen Braithwaite | Lincsquad | Female | 28.52 | 22 | 2 | | 2 | |
| Catherine Butterill | Lincsquad | Female | 32.09 | 23 | 3 | | 3 | |
| Walter Kent | Lincsquad | Male | 33.19 | 24 | | 21 | | 13 |